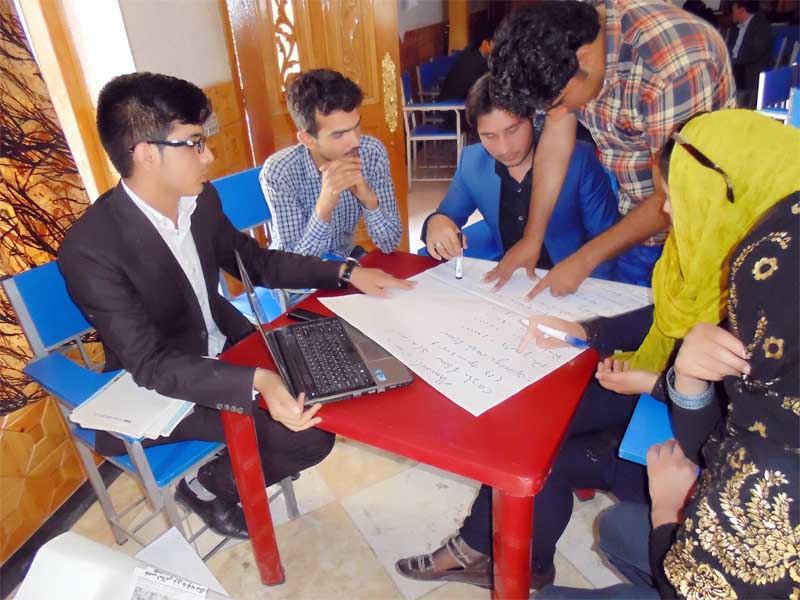 Technical Education and Skills Training Organization TESTO is the driving force behind the social and economic rehabilitation of Afghanistan and will help the most vulnerable communities to achieve economic sustainability.
In addition, Technical Education and Skills Training Organization TESTO is addressing the underlying cause of poverty, human suffering problems, and how to resolve them which is done through strengthening the capacity for self-reliance; promoting basic human rights, social economic and gender equity, sustainable and effective use of resources, good governance, vibrant civil society and provision of economic opportunities. TEST advocates with and on behalf of poor, vulnerable, and marginalized Afghans to be helped, and resources and systems to live in peace and dignity.Vocational Skills Training
COMMUNITY DEVELOPMENT | SOCIAL COHESION
GOAL
The goal of our community development program is to inform, educate and empower communities for peaceful co-existence, Social Order and social cohesion through community Integrated, community-led actions and implementation of important initiatives that brings communities closer and de-escalate local tensions.
SITUATION
Social cohesion is an important determinant of a peaceful and prosperous thriving communities. In Afghanistan, lack of social cohesion is a major issue that results in increased social tension, violent crime, targeting of minorities, human rights violations, and, ultimately, violent conflict. Community Development initiatives strengthens the culture of tolerance and respect for diversity (in terms of religion, ethnicity, economic Class, political Opinions, sexuality, gender and age) – both institutionally and individually.
It develops stronger bonds across different groups, and fosters greater trust in the community and functioning institutions.   There is much need for Reinforcing or promoting social cohesion to be an integral part of government policy and civil society engagement in countries where multiple tribes, traditions, and multi-linguals communities live together. It is even more important in a country like Afghanistan which has history of Civil War. Considering the need, the ongoing efforts are not sufficient and there is room for a number of initiatives and future projects.
Our activities are focused on enabling activists, CDCs and community leaders to address social norms, monitor human rights and rule of law, support access to justice, mediate in disputes resolution, promote peace, and to develop community-based systems.
TESTO is focused on the following initiatives for community development;
Address the current gender imbalance in community planning at rural areas
Revisit barriers and partner with social cohesion enablers throughout Afghanistan to address local challenges.
Support youth in raising 'youth voices' beyond the community level, including through strengthened participation models.
Focus on building resilience and mitigating fragility, to help communities and individuals cope with increasing adversities.
Use the resilience and fragilities as a checklist to assess areas where resilience programming is most needed.
Promote peace and social cohesion by engaging women and youth in community dialogue and planning activities
Enable communities to engage in dialogue on pressing issues affecting their coexistence as well as way forwards to address those issues.
Train community leader, CDC members, and existing groups of women and youth on Peace, Advocacy and Conflict resolution to enhance their abilities to address community challenges.
Promote sport events among youth and provide resources of income generation for poor women
FOCUS AREAS
Assessments to identify existing challenges

Brainstorming Well Suited Ideas
Focus Groups
Desk study

Public Awareness

Dissemination of informative flyers and brochures
Radio roundtables and shows
TV programs

Training and Capacity building of community institutions

Peace
Conflict Resolution
Advocacy
Leadership

Training and capacity building of key community leaders
Training on Mental Health First Aid
TARGETED BENEFICIARIES
Women groups and association
CSOs
Traditional Community institutions
Religious and Influential Community Elders
Government concerned Agencies
PROJECTS & ACHIEVEMENTS
The table below represent information on TEST completed projects in Community development sector:
| | |
| --- | --- |
| # | Project Description |
| 1 | TESTO implemented UNDP ABADEI Program for Community Resilience in Afghanistan in 2022. The project was implemented in Balkh province aimed at identification of challenges in targeted districts. TESTO has organized brainstorming events, hosted community dialogues, and provided training on peace, conflict resolution and effective leadership to community institutions and leaders to enable them de-escalate local tensions and ensure a prosperous community where all have equal rights and live in dignity.  |