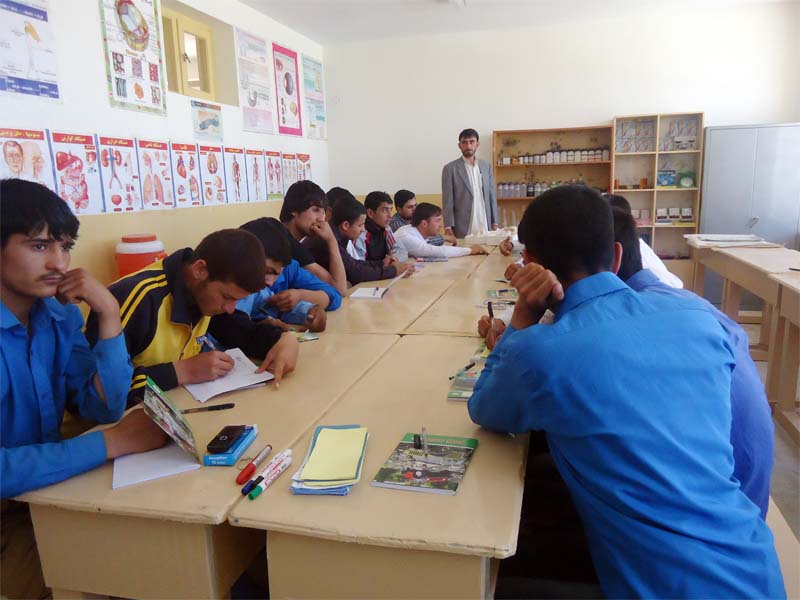 HEALTH SECTOR
GOAL
Support individuals and communities access to free health services & facilities for a healthier life!
SITUATION
During the year 2018, in Afghanistan, 4 out of 10 children died before their first birthday. Many families are unnecessarily losing their children, especially during the neonatal period. The majority of these deaths can be prevented with timely and adequate care, and treatment, as well as healthy behaviors. Children and mothers need access to quality community-based healthcare and comprehensive emergency obstetric and newborn care at district and provincial level. No child or mother should suffer and die from preventable causes. Yet, Afghanistan remains one of the most dangerous places in the world to be a baby, a child or a mother, and access to a hospital or health facility is beyond the reach of most. The country [1]has one of the highest infant mortality rates in the world and thousands of Afghan women die every year from pregnancy-related causes, a majority of which can be easily preventable.TESTO Health department is aimed to address the existing needs within Afghan communities for basic and comprehensive health services, with special emphasize on Mother and child health.
FOCUS AREAS
Awareness campaigns [all Health Domains]

Door-to-door information dissemination
Radio roundtables to create debate
TV Production as an effective medium
Auditory Learning materials [rechargeable MP3 players]

Basic Training for medical staff

First aid training and kits
Cardiac attack emergency assistance
Hygiene awareness and kits
Psycho-social first aid and MPHSS

Mobile Health Teams
Rehabilitation Programs for Drug addicts and abuse
Mother and Child Healthcare
Nutrition and Malnutrition
Psycho-social Counselling and support teams
Water testing and access to clean drinking water
Organize and provide medical camp in emergencies
Organize and host overseas training and study tours for nurses and doctors
Other on-demand/specialized training/Training of Trainers
TARGETED BENEFICIARIES
Children (underage girls and boys) throughout the country
IDPs and Returnees
Rural residence of the country (Me, Women and girls of all ages
Basic Health Services Providers, Clinics, and hospitals
Doctors, Nurses, Midwives, Medical graduates and university students
TYPES OF INTERVENTIONS
             TEST has implemented the follow interventions in health sector:
Provision and implementation of basic health services
Provision and implementation of comprehensive health services
Design and Implementation of health Awareness campaigns through various
means including Audiobooks (rechargeable MP3 players.
TB
HIV
Polio
COVID-19
and Malnutrition
Implementation of health projects in emergency for Returnees, IDPs, People
affected by natural and man-made disasters
Capacity building of midwives and nurses
PROJECTS & ACHIEVEMENTS
TESTO through its dynamic team of health specialists have managed to implement the following projects in collaboration with local and international agencies;
| | |
| --- | --- |
| # | Project Description |
| 1 | TESTO has implemented Basic Hygiene and Health Education and Access to safe drinking water project in 2011. The project was funded by US Embassy under its Ambassador Small Grant Program (ASGP) and was implemented in Ghazni province. The project covered 300 families under hygiene and health education training in different districts and purchased and distributed 300 Bio Sand filters to families across different districts. |
| 2 | In the year 2013, TESTO has Implemented a joint project of Counterpart international I-PACS (Initiative for Afghan Civil Society) and ACSF (Afghanistan Civil Society Forum awareness campaign on Drugs Control across different district of Kabul province including Bagrami and Dehsabz.    |
| 3 | In 2013, TESTO implemented another project for PRT Ghazni under the title "Capacity Building of Healthcare System in Ghazni". The project supported healthcare system in Ghazni by supplying inoculation of 250 health workers in the province for viral hepatitis A and B. In addition, the project trained doctors on the use of modern multi-functional anesthesia apparatus – AEON 7200A ventilator which was previously purchased by another donor for the hospital. We have also delivered training to 5700 individuals in different schools and health facilities on preventing the development of parasitic diseases in the city of Ghazni |
| 4 | TESTO implemented The Colombo Plan project on Youth Led Initiative for Preventive Drug Education in 2016. The project was focused on youth awareness at community level and school programs to intervene as early as preschool to mitigate drug abuse. Topics like self-control, emotional resilience, better communication, social skills and literacy support in reading and writing were conducted. |