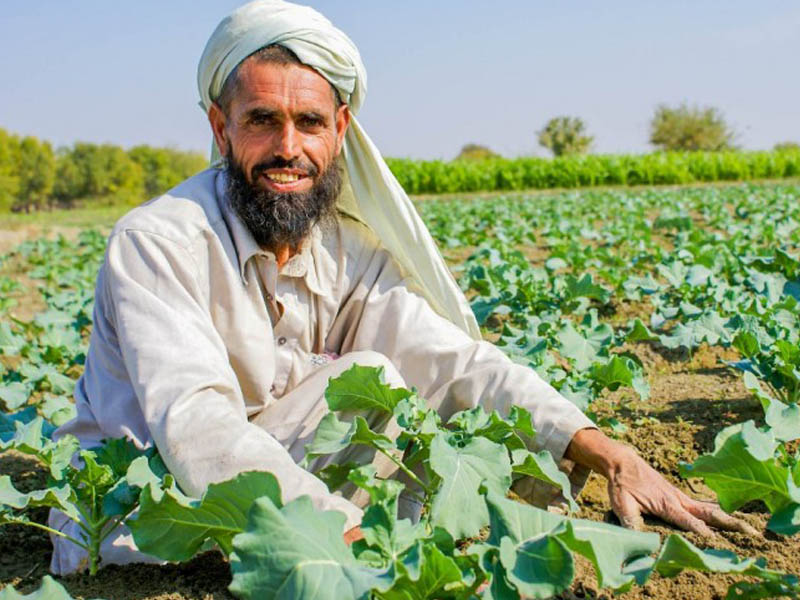 AGRICULTURE SECTOR
GOAL
Improve production quality, ensure food security and develop market linkages and scale- up producers' knowledge of modern mechanization to become financially stable.  
SITUATION
Agricultural production is the main source of rural livelihoods and guarantees food security of a nation and as our main source of income it provides stability to countless Afghan families. According to World Bank reports, more than 75% of Afghanistan's population, and nearly 90% of those living under poverty line, live in rural areas. With a 25% contribution to GDP and about half of all households receiving income from agriculture, it has great potential and could be one of the main drivers of economic growth while reducing unemployment. Due to the country's high population growth rate, agriculture will need to grow by at least 6% per year if rural incomes are to increase and community standards of living significantly improve. This is nearly twice as fast as its average growth rate over the past decade, and achieving it will be challenging and require revolutionary and game-changing policies with foreign direct investments. However, this would be possible given that, fortunately, Afghanistan has many catch-up opportunities —from revamping rural institutions to re-building infrastructure and updating technology, which greatly suffered during the years of conflict— and offers the possibility of faster agricultural growth. The agriculture sector has suffered from nearly 40 years of conflict, low investment and natural disasters caused by global warming. With the great potential lying in quality agricultural production, it needs to facilitate the socio-economic arrangements to reach the aim of Hunger Free Afghanistan
FOCUS AREAS
Agriculture input sourcing and distribution

Seeds and fertilizer
Agro-chemical Pesticides
Certified fruit saplings
Tools and farm equipment

Small-ruminant (goats and sheep's) sourcing and distribution
Agriculture Production, Processing, and Marketing

Value Chain Development Approach
Market System Development Approach
Incorporation of scientific advances in Farming

Dairy Production, Processing Marketing and Livestock Vaccination
Poultry Production, Processing and Marketing
Agribusinesses Development Programs

Assessment and evaluation
Trainings for SMEs/Enterprises

Management trainings
Accounting and finance training
Marketing Training
Marketing Plan/Strategy Development
Product Labeling Processing and packaging

Trainings for women household producers and processors

Hygienic Processing
Dairy products processing
Livestock Management
Fruits and Vegetable drying and processing
Backyard Poultry Farming
Business registration guidance

Establishment of Greenhouses
Establishment of Kitchen Gardens
Fish Farms Establishment and Trainings
Mushroom cultivation (training and equipment's)
Access to credit
Access to market or market linkages
TARGETED BENEFICIARIES
Farmers Associations
Individual Farmers
Cooperatives
Agriculture Faculty Students
Input Dealers
Agribusinesses
Household Producers and Processors [particularly women]
Wholesalers
Retailers
TYPES OF INTERVENTIONS
             TEST has implemented the follow Projects in agriculture sector:
Alternative Livelihood Projects and Initiatives to eradicate poppy production
Agriculture Support Projects with a focus on individual farmers, association, cooperatives, and unions. Ag-support initiatives for producers included distribution of Seeds, Fertilizer, Modern Farming Equipment and market linkages to ensure increased quality agriculture productivity and food security.
Management and implementation of livestock projects with a primary focus on women farmers and household producers of dairy products in Wardak province.
Management & Implementation of Apricot Drying training for women in Ghazni.
Management & Implementation of Pre harvest and Post-harvest management training for producers.
Management & Implementation of backyard poultry development projects.
Hygienic milking training for household producers of dairy products
Backyard Poultry management training for producers in Logar province.
Establishment of the kitchen garden.
PROJECTS & ACHIEVEMENTS
The table below represents information on TEST-completed projects in the Agriculture sector.
| | |
| --- | --- |
| # | Project Description |
| 1 | Seed Distribution to farmers in Laghman district. The project was funded by MAIL – under its wheat seed distribution program in 2015. |
| 2 | Carried out pickle and chutney production training for DAI – IDEA-NEW in Parwan district. Trained 40 women and provided them with essential equipment for home based production. |
| 3 | Provided home based dairy production training to 66 women in Maidan Wardak district. The project was funded by ICARDA and was successfully implemented in 2014. |